---
ECCR CO., Ltd is a full registered Company with Head Office in Bangkok (Thailand) with State License and all necessary agreements.
Since 1990 and under is main name ECCR Co., Ltd the Company is GSA (General Sales Agent) and PSA (Passengers Sales Agent) in Europe for airlines in Asia. The Company provide e-ticketing for these airlines with online booking.
Regarding Lao Airlines; ECCR Co., Ltd signed a contract with Lao Airlines Head Office in Vientiane in 2003 to become PSA of company in France and Europe and provide its expertise on marketing and promotion. ECCR Co., Ltd launched the first online booking service for Lao Airlines in 2004 (with a system of exchange-voucher) and during 4 years helped thousand of passengers to get tickets easily to travel in Lao.
In 2008 Lao Airlines Head Office was able to launch its own online booking system, so since 2008, ECCR Co., Ltd continue as Travel Agent to offer the most convenient service and high additional value for passenger who choice to book via our website.
At present ECCR Co., Ltd issue e-tickets and send to passengers by e-mail, payments are made by Credit Card (in Thailand by secure payment). In near future, passengers will get invoice and immediate confirmation online and will be able to choice payment in 5 major currencies for their credit card debit. System will be powered by GE (General Electric) system and Verisign at Krungsri Ayudhya Bank, one of the 4th major Banks of the country.
Under is brand name "Blue Jade" the Company ECCR Co., Ltd is specialist for high contribution tourism market in Thailand and Mekkhong region. Main market is provided by Airlines Employees in Thailand, Lao, Myanmar, Cambodia and Vietnam. Other clients are provided from some selected Travel Agencies worldwide. Company has its own French Paris Office to offer best assistance to Europeans travelers, other travelers are managed by Head Office in Bangkok.
---
The main advantages to book your flight(s) with us:
-
To get the best rates available at the moment of your booking, our databases are weekly updated.
- Your booking is managed by one Reservation Officer since the request until the confirmation.
- The best advice to arrange or modify your routing if one flight is full.
- Service is 7 / 7 days (Bangkok only) offered by professional staff in both office at Paris and Bangkok.
- You receive e-tickets by email.
- Your payment is secure, you can choice payment by credit card, swift, bank check or cash.
- We can manage waiting-list and with our PRB (Pre Reservation System) you can book your flight before anyone, this is very convenient during high season.
- Our Golden Flights Packages (Flights, Hotel and arrival Transfers) offer to you the most easy and convenient way to visit Lao- Personal advice and help will be provide to you by Reservation Officer in charge of your booking
- You will be informed if main modification in your booking (time, changing route, cancel flight)
- And more in future to continue to serve multi thousand of passengers each year
---
Serving the Lao PDR since 1976
Founded in 1976 as the national carrier of the newly established Lao PDR, Lao Airlines was originally known as the Civil Aviation Company and was formed from merger of existing airlines Royal Air Lao and Lao Air Lines. The company became Lao Aviation in 1979 and has operated under that identity right to March this year.
The Lao national carrier initially started life with a mixed fleet of Western aircraft, including the Douglas DC-3 and DC-4, operating on international and domestic routes, as a fleet of helicopters enabling access to the remote regions. Reflecting the country's closer links with its Eastern neighbors, a re-equipment exercise was undertaken in the 1980s, with the fleet then primarily composed of aircraft from China and the Soviet Union. For international services to Bangkok, Hanoi and Phnom Penh these included the Antonov An-24.
The decision to upgrade to the newer generation of European turboprop aircraft being produced by ATR (Avions de Transport Regional) in France was taken in 1994, when the first 50-seat ATR42 entered service with the airline which is removed from the service on 1995 and immediately replacing by a first 70-seat ART72 aircraft and the second on 1999, with both ATRs forming the backbone of the carrie's fleet for international and major domestic services up to today. These highly relihable aircraft are complemented on routes to remote areas within the country by the Y-7 and Y-12, seating 50 passengers respectively.
Today the Lao Airlines network extends to seven international destinations and 11 locations within the Lao PDR. New routes are planned for the future, including within the CLMV economic zone of Cambodia, Lao PDR. Myanmar and Vietnam, as well as to Hong Kong and Singapore.

The Lao Airlines fleet
Lao Airlines passengers flying on all international routes are new offered service either aboard the M.A.60 or the Francoltalian ATR72. The aircraft also operate on selected domestic routes, notably between Vientiane and the world heritage city of Luang Prabang.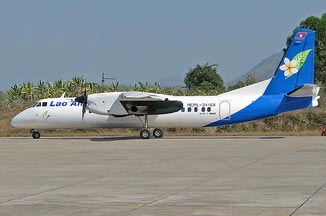 M.A.60
- Power Plant System: Powered by two turbo-prop engines model PW127J manufactured by Pratt & Whitney of Canada.
- Propellers model 247F-3 manufactured by Hamilton Sundstrand of America.
- Auxiliary Power Unit (APU) model GTCP36-150 manufactured by Honeywell of America. APU is provided the electrical power and air conditioning on ground.
- More than 90% of advanced technology airborne equipments are famous western and American made such as Collins, Honeywell, King, Bendix, Universal, etc…
- Seat configurations: 56 seats
- Plane length / Wing span / height: 24.708m/ 29.200m/ 8.853
- Engine Trust: 2400 shp horse power each
- Max. cruise speed 280 knot / 514 km/h
- Service ceiling 25000 ft / 7,620 m
- Take-off roll 2660 ft / 812 m
- Landing roll 2439ft / 760 m
- Max. range 1330 nm / 2,450km
- Max. Payload 5,500 kg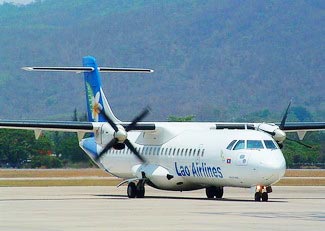 ATR72

- Engines : PW124B Pratt & Whitney of Canada
- Propellers 14SF-11 manufactured by Hamilton Sundstrand of America
- Seat configurations : 70 seats
- Plane length / Wing span / height: 27.166 m / 27.060 m / 7.65 m
- Engine Thrust: 2400 shp horse power each
- Range with Maximum passengers (pay load): 7.000 Kg
- Normal Cruise speed : 277 knot / 508 Km/ h
- Maximum operation Altitude: 25000 ft / 7,620m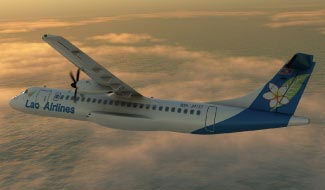 ATR72-500
- Engines : PW127F Pratt & Whitney of Canada
- Propellers 6 blade 568F manufactured by Hamilton Sundstrand of America
- Seat configurations : 70 seats




- Plane length / Wing span / height: 27.166 m / 27.050 m / 7.65 m




- Engine Thrust: 2475 shp horse power each




- Range with Maximum passengers (pay load): 7,550 Kg




- Normal Cruise speed : 276 knot / 506 Km/ h




- Maximum operation Altitude: 25000 ft / 7,620m
ATR has always made optimal use of advanced technologies providing fuel-efficient aircrafts to the airline industry. ATR aims at furthering its contribution to ensure a sustainable future for the aviation industry and welcoming air transport growth while minimizing environmental impact.
The ATR-72-500 is one of the most recent developments of the ATR-72. It draws from in service experience of more than 700 ATR aircrafts flying worldwide.

Important :
Type of aircraft on each route and each day isn't fix but depend of plane availability and security and maintenance operations. Normally, we used ATR72 to fly or sometime may be use another plane.
Anyway, we can't confirm before your date travel will use which plane. You must contact and recheck at the Airport staffs.